Working with luxury clients is always exciting as it gives us a chance to pair our food with a brand's image. The La Cienega Design Quarter (LCDQ) for more than half a century, has been the destination for sophisticated shoppers looking for top quality design. This legendary district, with its romantic courtyards, alluring windows and treasure troves of antiques, furniture, lighting, fabrics, stone, rugs, accessories and art, is known as the "shopping heart" and workplace of the interior design profession.
Working together at the LCDQ Legends event with Missy Fine of Missy Fine Events was an absolute pleasure! Throughout the day, we entertained guests in and out of the design quarter. Laid upon clean black lacquered trays and adorned with a white orchid bloom, our guests dined upon a variety of delectable hors d'oeuvres including Smoked Salmon Blinis topped with Chive Crème Fraiche and Lemon, along with Baby Artichoke and Red Pepper Crostinis with Shaved Reggiano cheese and drizzled with Truffle Oil.
Throughout the entire LCDQ Legends event, we were able to work in many more stores and bring our food to many more people.
See you at the dinner table,
CBC Team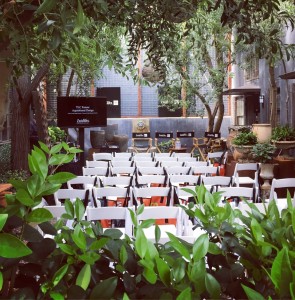 MENU
PASSED APPETIZERS – WEDNESDAY/THURSDAY – 10:30AM-11:00AM & 12:00PM-12:30PM
Smoked Salmon Blini | Chive Crème Fraiche | Lemon
Grilled Peach & Clover Honey Mascapone Crostini | Micro Greens
Greek Yogurt Parfait | Toasted Oat Crumble | Berries
Blueberry Compote Crostini | Sweet Cream Cheese | Candied Lemon
PASSED APPETIZERS – WEDNESDAY/THURSDAY – 3:30PM-4:00PM & 5:00PM-5:30PM
Baby Artichoke & Red Pepper Crostini | Shaved Reggiano | Truffle Oil
Challah King's Fig Challah Brie Melt | Caramelized Onion | Parsley
Edamame Crostini | Meyer Lemon | Chives
BBQ Scented Chicken | Plantain Chip | Pineapple Relish
PASSED APPETIZERS – THURSDAY 5:30PM-7:00PM
Baby Artichoke & Red Pepper Crostini | Shaved Reggiano | Truffle Oil
Challah King's Fig Challah Brie Melt | Caramelized Onion | Parsley
Edamame Crostini | Meyer Lemon | Chives
BBQ Scented Chicken | Plantain Chip | Pineapple Relish
Seared Mandarin Orange Crab Cake | Coriander Aioli