I remember Easter with such fond memories. Every year I would wake up with a basket by my bed and the entire house would be riddled with hidden treasures. Chocolate, marshmallows, and Jelly Beans adorned spaces between bricks, books and other normal household décor. But everyone knows, the real treat was finding a coveted Easter Egg. Whether they were plastic and filled with more treats, cream filled with a sweet chocolate shell, or hardboiled and hand-painted by my siblings and I, when the Easter hunt was over, these beauties always garnered the most points.
The egg is a symbol of birth and life. For people of the Jewish faith, for which Passover occurs simultaneously with Easter, it represents promise, while for Christians it embodies resurrection and immortality.
On this Easter, we would like to pay tribute to the egg with some decadent recipes you're sure to love. Don't let the names scare you, these appetizers are sure to make your Easter meal a complete success.
See you at the dinner table,
CBC Team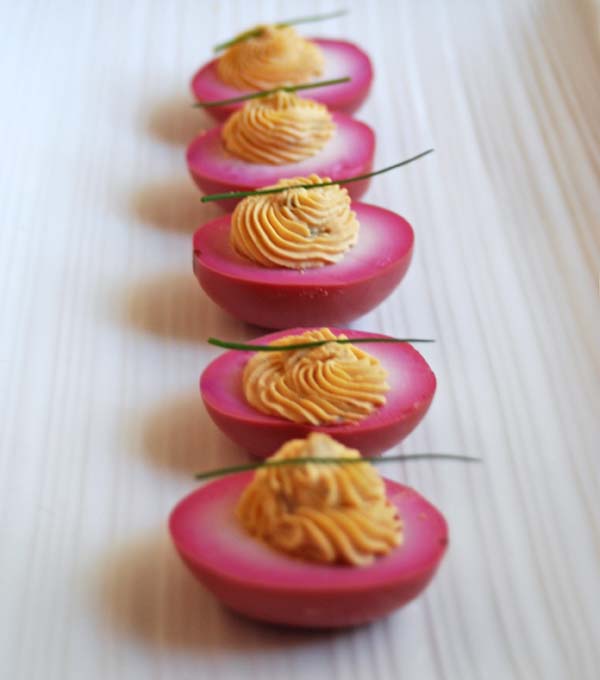 INGREDIENTS
Hardboiled Eggs | Mayonnaise | Sour Cream | Dijon Mustard | Lemon Juice | Salt | Pepper
Jar of Beets | Water | Distilled White Vinegar
Fresh Herbs
DIRECTIONS
Combine Beet Juice, Water, & Vinegar to make marinade
Peel Hardboiled Eggs and Soak in Beet Marinade for over an hour
Cut Hardboiled Eggs lengthwise and remove yolks
Combine mashed Yolks, Mayonnaise, Sour Cream, Dijon Mustard, Lemon Juice, Salt, Pepper, and Chives
Pipe in Yolk mixture to Egg Whites
Garnish with Fresh Herbs
Caesar Salad Deviled Eggs
INGREDIENTS
Hardboiled Eggs | Anchovy Paste | Garlic | Mayonnaise | Parmigiano | Worcestershire Sauce | Lemon Juice | Pepper
Romaine Lettuce | Crouton
DIRECTIONS
Preheat oven to 350 degrees F
Spread out Parmigiano on wax paper and bake until golden brown
Remove from oven and cool
Cut Hardboiled Eggs lengthwise and remove yolks
Combine mashed Yolks, Mayonnaise, Anchovy Paste, Garlic, Parmigiano, Worcestershire Sauce, Lemon Juice, and Pepper until smooth and creamy
Pipe in Yolk Mixture to Egg Whites
Garnish with finely chopped lettuce, Crouton and Parmesan tuile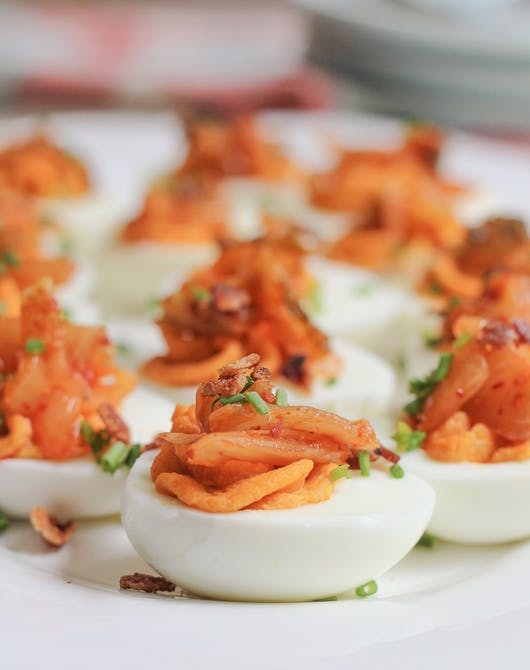 INGREDIENTS
Hardboiled Eggs | Mayonnaise | Dijon Mustard | White Vinegar | Gochujang
Sesame Oil | Kimchi | Chives | Bacon
DIRECTIONS
Cut Hardboiled Eggs lengthwise and remove yolks
Combine mashed Yolks, Mayonnaise, Sour Cream, Dijon Mustard, & Vinegar until smooth paste
Add in Gochujang and mix
Rough chop Kimchi and sautee in sesame oil with thing sliced bacon
Pipe in Yolk mixture to Egg Whites
Garnish with Kimchi and bacon mixture and fresh chives