Finally, Memorial Day is approaching quickly and that means a three-day weekend! Temperatures have been rising, the rainy season is over, and we are ready to head out to the wilderness for a good old-fashioned camping weekend. Away from the traffic and the stress of Los Angeles, the fresh air always helps us gather our thoughts and re-center ourselves.
Whether you enjoy backpacking or you're an adamant car-camper, one thing everyone can agree on is cooking and eating together in a group is one of the best parts of the outdoor activities. And just because you're sleeping under the stars, doesn't mean your food and to be bland or boring. Prep some of these at home, load up the cooler, and get ready for an unforgettable weekend of laughs, ghost stories and wishing you had a warm shower. Just don't forget to store your food and trash in a bear box so you don't attract any unwanted guests!
See you at the picnic table,
CBC Team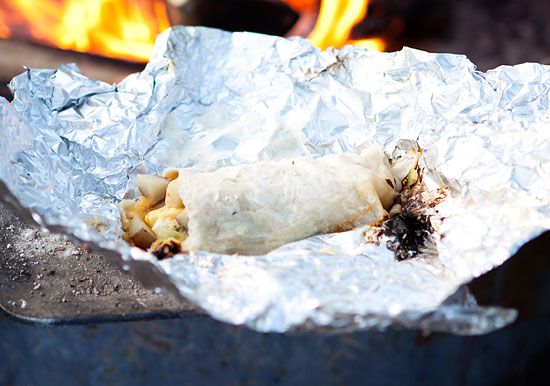 INGREDIENTS
Flour Tortilla | Heavy Duty Tin Foil
Yukon Gold Potatoes
Bacon
Eggs | Milk
Poblano Peppers
Cheddar Cheese
Avocado | Garlic | Lime Juice | Tomatoes | Salt | Pepper | Cilantro
DIRECTIONS
Before leaving, cube your Potatoes and sauté – Place in Tupperware for your trip
Skewer your Bacon and cook over campfire
Take your Poblano Peppers and roast them over the fire until blistered
Combine Eggs and Milk and scramble in pan over fire, seasoning with Salt & Pepper
Take your Flour Tortillas and layer in Potatoes, Eggs, Crumbled Bacon, sliced Poblano Peppers, and Cheddar Cheese
Roll in tin foil and place in the edge of the fire
Combine Avocado, Garlic, Lime Juice, Chopped Tomatoes, Cilantro, Salt & Pepper to create a delicious Guacamole
Remove burritos when warmed through
Top with Guacamole and enjoy!
Tandoori Chicken Sandwich
INGREDIENTS
Naan | Heavy Duty Tin Foil
Coriander | Cumin | Turmeric | Cayenne | Garam Masala | Paprika
Chicken Breasts | Plain Yogurt | Lemon Juice | Garlic | Ginger | Salt
Fresh Mozzarella | Basil | Pesto Sauce
DIRECTIONS
Before leaving, combine spices and heat in pan with a little oil until fragrant – Put in zip lock bag and pack
Cube Chicken Breasts
Combine Chicken, Spices, Yogurt, Lemon Juice, Garlic, Ginger, Salt and Pepper
Let Chicken marinate for 45 minutes
Skewer Chicken and cook over campfire
Slice open Naan Bread creating a pouch and layer Tandoori Chicken, Mozzarella Cheese, Basil and Pesto
Wrap Sandwich in Tin Foil and place in coals
Let cook in Coals until cheese is melted
Unwrap and enjoy!
Pork Chops & Charred Corn Salad
INGREDIENTS
Bone In Pork Chop | Soy Sauce | Rice Vinegar | Brown Sugar | Kosher Salt
Unshucked Corn | Cherry Tomatoes | Feta Cheese | Basil | Garlic | Olive Oil | Rice Vinegar | Butter
DIRECTIONS
Combine Soy Sauce, Rice Vinegar, and Brown Sugar to make marinade
Make small pricks all over Pork Chops with fork
Marinate Pork Chops for at least an hour
Place Pork Chops on Grill over fire
Season with Salt & Pepper, turning and basting occasionally
Put Unshucked Corn into coals until corn begins to blister
Remove kernels from stalk and place in bowl
Combine Garlic, Olive Oil and Rice Vinegar
Halve Cherry Tomatoes, and place in bowl with Corn, Crumbled Feta, Chopped Basil
Toss salad in Dressing and season with Salt & Pepper
INGREDIENTS
Heavy Tin Foil
Banana | Semi-Sweet Chocolate Chips | Peanut Brittle | Marshmallows | Graham Crackers | Shaved Coconut
Pistachios | Cashews
DIRECTIONS
Combine Banana, Chocolate Chips, Peanut Brittle, Marshmallows, Crumbled Graham Crackers, & Shaved Coconut in tin foil boat
Toss in coals until everything is melted
Remove from fire and top with crumbled Pistachios or Cashews