Here is Los Angeles, we are proud that we continue to promote diversity. As a cultural melting pot, we continue to make strides throughout our entire city, as seen in the Entertainment Industry lately. One of the biggest celebrations of the year is Los Angeles Pride, the annual LGBTQ festival that takes place in West Hollywood, which starts today. Boasting more gay bars in a square mile than any other place in the world, LA Pride continues to garner attention as a social and political movement.
As many know, one of the most prominent symbols for the Pride is the rainbow flag, meant to represent all the diversity within the LGBTQ community. We love this totem as the colors are also reflected so beautifully in the amazing food we get to create and enjoy. Here are some easy ideas inspired by each color of the flag for your own Pride Brunch.
See you at the dinner table,
CBC Team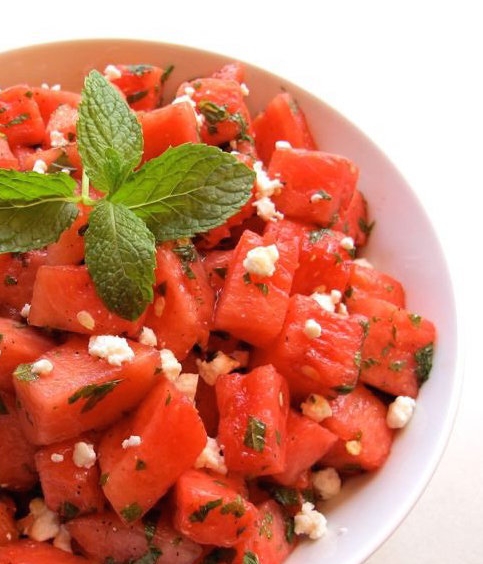 WATERMELON & TOMATO SALAD
INGREDIENTS
Seedless Watermelon | Red Heirloom Tomatoes | Olive Oil | Red Wine Vinegar | Fresh Basil | Coarse Salt
Feta Cheese | Toasted Almond Silvers
DIRECTIONS
Cube Watermelon
Cut Tomatoes into Slices
Combine Tomatoes, Watermelon, & Coarse Salt into a bowl and let sit for 5 minutes
Add in Red Wine Vinegar, Olive Oil, and Fresh Chopped Basil and toss
Sprinkle in Feta Cheese and Toasted Almonds to garnish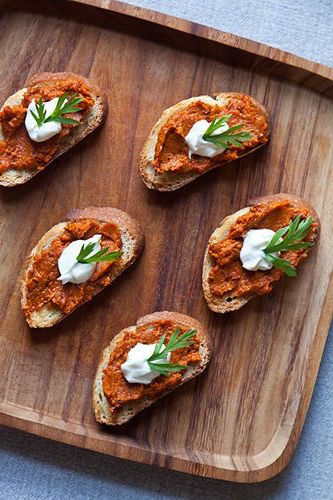 INGREDIENTS
Carrots | Olive Oil | Smoked Paprika | Garlic | Salt | Pepper
Chili Flakes | Lemon Juice
Goat Cheese | Parsley
Baguette
DIRECTIONS
Preheat Oven to 425 degrees F

Place Carrots on oven pan, drizzle with Olive Oil, and sprinkle on Paprika, Salt & Pepper
Add garlic to side to roast
Put pan into oven for 45 minutes or until carrots are tender
Remove carrots from oven and in bowl, mash Carrots, Garlic, Olive Oil, and Lemon Juice together
Slice Baguette and grille with Olive Oil over medium high heat
Top grilled Baguette with mashed Carrots and crumbled Goat Cheese
Garnish with Parsley
INGREDIENTS
Flour | Baking Powder | Sugar | Milk | Egg | Salt | Butter
Peaches | Banana
Pecans | Honey
DIRECTIONS
Whisk together Flour, Baking Powder, Sugar, and Salt in a bowl
Add in beaten egg, Milk, and Butter keeping some lumps
Slice Peaches and Bananas
Over medium heat, place Bananas and Peaches in butter
Spoon batter over fruit, flipping once large bubbles form on surface
Once pancakes are done, place in oven to keep warm
Lightly sauté Pecans in honey, quickly caramelizing them
Add in remaining Bananas and Peaches
Plate pancakes and top with Pecans, Bananas and Peaches
INGEDIENTS
Pears | Pineapple | Celery | Kale | Fresh Mint
DIRECTIONS
Combine all ingredients in a blender
LEMON FROSTED BLUEBERRY MUFFIN
INGREDIENTS
Flour | Baking Soda | Unsalted Butter | Sugar | Buttermilk | Eggs | Vanilla Extract | Salt | Blueberries
Cream Cheese, Unsalted Butter, Powdered Sugar, Heavy Cream, Lemon Zest, Vanilla Extract, Lemon Extract, Blue Foodcoloring
DIRECTIONS
Preheat oven to 400 degrees F
Line muffin tin with muffin liners
Sift together Flour, Baking Powder, Baking Soda, and Salt
In small pan, melt Butter over medium heat until lightly browned
Combine browned Butter, Sugar, and Buttermilk
Whisk in Eggs and Vanilla Extract into wet ingredient bowl
Add in dry ingredients and stir, leaving some lumps
Fold in Blueberries
Spoon batter into muffin tin and sprinkle remaining sugar
Cook 15-18 minutes, until a toothpick comes out dry
While the muffins cook, beat together Butter and room temp Cream Cheese until smooth.
INGREDIENTS
Purple Potatoes | Red Chili Flakes
Red Onions | Olive Oil | Butter | Kosher Salt
Thick Sliced Bacon | Cremini Mushrooms
Fresh Rosemary
DIRECTIONS
Thinly slice Red Onions and add to pan with Olive Oil
As Onions start to brown, add in Butter and Salt
Continue to flip Onions until fully caramelized and then remove
Thinly slice Bacon and sauté in hot pan over medium heat
Remove Bacon when slightly crispy
Add sliced Mushrooms to bacon fat and sauté
Season Mushrooms with Salt & Pepper
Remove Mushrooms when browned on both sides
Cube Potatoes and brown on both sides in pan
Add in Onions, Mushrooms and Bacon to browned Potatoes
Sprinkle in freshly chopped Rosemary, Salt, and Pepper